$

1.55
Description
Additional content
Start requires the Steam-version of the game Arma 3.


activation: Region Free

INFORMATION ON ADDITION
Fly by new heavy CH-67 Huron and Mi-290 Taru helicopters and master the equipment of a pendant of freights to provide support of land troops in addition of Arma 3 Helicopters.
Main characteristics
CH-67 Huron - the two-engine heavy helicopter of the longitudinal scheme. His leading role consists in transportation of soldiers, military equipment and freights. There are two modifications of the Huron helicopter. In assault modification two shooters, the operating 6,5 mm machine guns of the scheme Gatlinga accommodate on each side, and at transport modification instead of shooters there are two occasional passenger seats.
Mi-290 Taru - the heavy helicopter of general purpose with coaxial screws and a unique modular design. Various special modules allow Taru to carry out a set of various tasks. He can transport freights and troops and also to supply troops in the battlefield (ammunition, fuel, the repair and medical equipment). And thanks to a possibility of a pendant of freights the helicopter can transport light military equipment.
The freight pendant presentation - study new opportunities of a pendant of freights and use the heavy transport helicopter for support of forces of NATO on Altis.
Tests for a while - win gold medals and set records in four exclusive helicopter tests for a while.


Activation of a key:
1. To download and establish Steam - http://store.steampowered.com/
2. To register the new account in Steam or to come into existing.
3. To pass into the section "Library" and in left lower to a corner to select the Add a Game item, then "To activate in Steam".
4. To enter a key.
5. After activation a game will appear in the list of games, and you will be able to download it from Steam.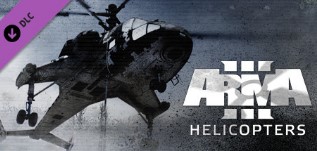 $

1.55