$

9.31
Description
You buy the official key that you receive immediately after payment in the window that opens, as well as a link to the page with the key that will come to your E-Mail specified at the time of purchase.

         
PRESENT:
         

Each buyer has left a positive review (I want a gift) - gets one of more than 40 different games for Steam. Which one? You will learn about this when you receive your GIFT.
It can be activated in the "Steam".

To receive a gift you must:
1) Buy a game from us
2) Leave a positive review with the comment "I want a gift"
3) Expect.

Subscribe to a gift done within 48 hours after writing a comment.
Attention!! By putting a review - you guarantee that you have read all the conditions for a Gift and if something is not clear - they asked.
For a positive review on this product, I will give the buyer a gift certificate in the amount of 5 rubles.
Details of gift certificates https://www.oplata.info/info/card_new.asp

Each buyer will also receive a promo code, he gives an excellent discount on all our pre-orders!
*************************
Language: Russian, English, French, German, Korean, Chinese, Spanish, Arabic, Japanese, Polish, Portuguese, Turkish, Thai
Platform: PC
Activation: Steam
Region of activation: Region Free
ATTENTION! To access the content of the add-on, you must have the game PLAYERUNKNOWN'S BATTLEGROUND activated.
*************************

It's time to add a bit of style to the battlefields, with the help of "Survivor's Ticket: Wild Card!" You will look great regardless of whether you are dressed in a nice and fashionable modern outfit, if you are wearing a needle or cocktail dress straight from spy movie - you only need to raise the level of your ticket!

EXECUTE MISSIONS
Over 200 missions
Unlock skins for weapons with the help of new missions, challenges!
Survivor's Ticket missions are specifically designed to help you develop your skills, and the survivor's experience gained for them will allow you to unlock new rewards. With new missions for beginners and improved daily and weekly missions, earning experience and rewards has become even easier! In addition, you can get unique skins for weapons by completing special tasks for these weapons!

NEW LEVEL: reward for every level earned!
With "Survivor Ticket: Wild Card" you will receive new rewards with each level. You will have 10 weeks to complete all the missions, but players who want to save time can purchase upgrade packages at 5, 20 or 30 levels in a game store.

OPEN REWARDS: over 60 new items!
Dress for killing with more than 60 new items you can earn by raising your level of "Survivor Ticket"! Become a clever spy with a tuxedo outfit and cocktail dress, show your wild side with the Snow Leopard - M249 skin, and don't forget to open 20 unique weapon skins in new challenge missions for weapons!

This product is distributed through digital distribution, is only a pin code, and does not contain packages and boxes.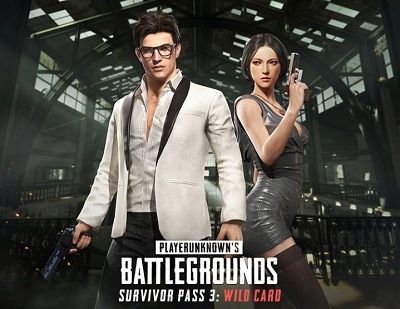 $

9.31
Additional information
**************************************************

DO NOT MISS HITS, ORDER FROM US))

Http://www.plati.ru/asp/pay.asp?id_d=2134584 - Battlefield 1
Http://www.plati.ru/asp/pay.asp?id_d=2327321 - Assassins Creed Origins: Deluxe Edition
Http://www.plati.ru/asp/pay.asp?id_d=1803382 - Grand Theft Auto V
Http://www.plati.ru/asp/pay.asp?id_d=2321080 - Far Cry 5: Deluxe Edition
Http://www.plati.ru/asp/pay.asp?id_d=2081829 - Dark Souls III Deluxe Edition
Http://www.plati.ru/asp/pay.asp?id_d=1941925 - Tom Clancy's Rainbow Six: Siege
Http://www.plati.ru/asp/pay.asp?id_d=2264120 - TEKKEN 7
Http://www.plati.ru/asp/pay.asp?id_d=2278461 - PREY
Http://www.plati.ru/asp/pay.asp?id_d=2081822 - Overwatch: Origins Edition
Http://www.plati.ru/asp/pay.asp?id_d=2177577 - Siberia 3
Http://www.plati.ru/asp/pay.asp?id_d=2127075 - World of Warcraft: Legion RU + 100 lvl
Http://www.plati.ru/asp/pay.asp?id_d=2281540 - Warhammer 40000: Dawn of War III
Http://www.plati.ru/asp/pay.asp?id_d=2329489 - Total War: WARHAMMER II
Http://www.plati.ru/asp/pay.asp?id_d=2034950 - Tom Clancys The Division

**************************************************

Instructions for activating the key on Steam:

1. Download and install Steam http://steampowered.com/download/SteamInstall.msi to register the account on Steam.
2. Click the "Add game - activate via Steam" button and follow the instructions. After activation, the game appears in the list of games and you can download it.
3. Download and after the full installation run and play.

IMPORTANT: After activating the serial key in steam, the key becomes invalid, i.e. You can not use it again.
MUST remember, but better write down all the details of your account! Without them, you will not be able to access the activated games in the future.

**************************************************

Dear customers!
We will be very grateful to the positive response!
Thank you very much, Your GameCode.

All our goods on the page http://gamecod.plati.ru

**************************************************
$

9.31