$

1.72
Description
LICENSE KEY FROM Xbox Game Pass 1 month IS DISPLAYED IN THE BROWSER WINDOW AND COMES TO YOUR E-MAIL AUTOMATICALLY AFTER PAYMENT.

ATTENTION!!! ACTIVATION IS POSSIBLE ONLY ON NEW ACCOUNTS, WHERE GENERALLY WAS NOT SUBSCRIBED TO THE Xbox Game Pass.

Region:Region Free(All countries )

Attention key must be activated before 06/30/2019!

Turn on automatic renewal and get 1 MONTH FREE. To do this, you must link a bank card to your Microsoft account. Upon completion of the subscription period and free use of the paid extension, you can cancel, and untie the card, thus obtaining an additional month of using the Game Pass for free! An additional free month is given at the initiative of the Microsoft xBox service, in case there are any problems with its activation, or Microsoft xBox cancels this offer - you can only submit all the pretetics to Microsoft xBox, we will not accept any claims
! From February 21, 2019, Microsoft has decided to withdraw its Xbox Live subscription from the Russian version of the global online store Microsoft Store. Accordingly, the OPPORTUNITY to include auto-renewal and GET 1 MONTH FOR FREE in the RUSSIAN LANGUAGE version is ABSENT!

The Xbox Game Pass is a subscription to Xbox One, Xbox Play Anywhere and Xbox 360 games (with backward compatibility) for Xbox One consoles. Access to games requires an active subscription. Games included in the subscription may change over time, may depend on the country and may not be available in all countries.

After successful activation, please leave your review. Thanks!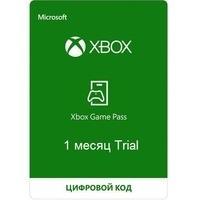 $

1.72
Additional information
How to redeem a code on Xbox One:

- Sign in to Xbox One (make sure you are signed in to the Microsoft account for which you want to redeem the code).
- Click the Xbox button to open the guide, and then select Home.
- Scroll to the right and select the Store tab.
- Select Use Code.
- Enter the 25-digit code, and then follow the on-screen instructions. Do not enter hyphens: the system will take care of them automatically.

ACTIVATION (THROUGH SITE xbox.com):

- Go to https://www.xbox.com
- Log in to your account
- Hover over your account link (in the upper right corner of the screen) a menu will appear, click the "Activate code" button.
- On the next page, click "Redeem",
- Enter your code
- Click "Confirm"
- Click "Confirm" again to assign your account key.
$

1.72