$

9.34
Description
You buy the official key that you receive immediately after payment in the window that opens, as well as a link to the page with the key that will come to your E-Mail specified at the time of purchase.

         
PRESENT:
         

Each buyer has left positive feedback (I want a gift) - gets one of more than 40 different games for Steam. Which one? You will learn about this when you receive your GIFT.
It can be activated in the "Steam".

To receive a gift you must:
1) Buy a game from us
2) Leave a positive review with the comment "I want a gift"
3) Expect.

Subscribe to a gift done within 48 hours after writing a comment.
Attention!! By putting a review - you guarantee that you have read all the conditions for a Gift and if something is not clear - they asked.
For a positive review on this product, I will give the buyer a gift certificate in the amount of 5 rubles.
Details of gift certificates https://www.oplata.info/info/card_new.asp

Each buyer will also receive a promo code, he gives an excellent discount on all our pre-orders!
*************************
Language: English, Italian
Platform: PC
Activation: Steam
Region of activation: Russia, Ukraine and CIS
*************************

The outstanding quality of the simulation allows you to feel the atmosphere of racing FIA GT3 and join the fight against the official pilots on the cars and tracks of the real championship, recreated in the game with unsurpassed accuracy.

With a fantastic level of realism, Assetto Corsa Competizione offers sprint, endurance and 24-hour race formats - in both single player and multiplayer mode.

In the Assetto Corsa Competizione will be presented the championship Blancpain GT Series 2018 season. The game will also include the 2019 season, which is expected to be a free addition in the summer of 2019.

Thanks to the experience of KUNOS Simulazioni, Assetto Corsa Competizione uses all the capabilities of the Unreal Engine 4 to create realistic weather conditions and graphics, night racing and animation with motion capture technology. All this allows you to set new standards for realism and immersion for racing simulators, including through an improved model of aerodynamics and tire behavior.

Assetto Corsa Competizione aims to promote eSports. The game will offer a new approach to racing design and allow participants to feel themselves in the heart of the Blancpain GT Series championship at the wheel of Ferrari, Lamborghini, McLaren and other prestigious racing cars, each of which is recreated with outstanding attention to detail.

This product is distributed through digital distribution, is only a pin code, and does not contain packages and boxes.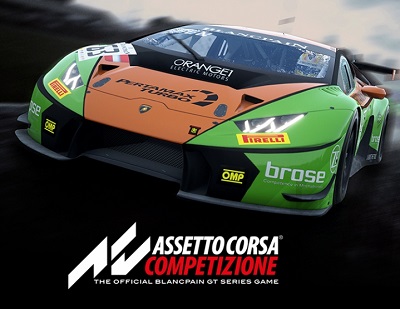 $

9.34
Additional information
**************************************************

DO NOT MISS HITS, ORDER FROM US))

Http://www.plati.ru/asp/pay.asp?id_d=2134584 - Battlefield 1
Http://www.plati.ru/asp/pay.asp?id_d=2327321 - Assassins Creed Origins: Deluxe Edition
Http://www.plati.ru/asp/pay.asp?id_d=1803382 - Grand Theft Auto V
Http://www.plati.ru/asp/pay.asp?id_d=2321080 - Far Cry 5: Deluxe Edition
Http://www.plati.ru/asp/pay.asp?id_d=2081829 - Dark Souls III Deluxe Edition
Http://www.plati.ru/asp/pay.asp?id_d=1941925 - Tom Clancy's Rainbow Six: Siege
Http://www.plati.ru/asp/pay.asp?id_d=2264120 - TEKKEN 7
Http://www.plati.ru/asp/pay.asp?id_d=2278461 - PREY
Http://www.plati.ru/asp/pay.asp?id_d=2081822 - Overwatch: Origins Edition
Http://www.plati.ru/asp/pay.asp?id_d=2177577 - Siberia 3
Http://www.plati.ru/asp/pay.asp?id_d=2127075 - World of Warcraft: Legion RU + 100 lvl
Http://www.plati.ru/asp/pay.asp?id_d=2281540 - Warhammer 40000: Dawn of War III
Http://www.plati.ru/asp/pay.asp?id_d=2329489 - Total War: WARHAMMER II
Http://www.plati.ru/asp/pay.asp?id_d=2034950 - Tom Clancys The Division

**************************************************

Instructions for activating the key on Steam:

1. Download and install Steam http://steampowered.com/download/SteamInstall.msi to register the account on Steam.
2. Click the "Add game - activate via Steam" button and follow the instructions. After activation, the game appears in the list of games and you can download it.
3. Download and after the full installation run and play.

IMPORTANT: After activating the serial key in steam, the key becomes invalid, i.e. You can not use it again.
MUST remember, but better write down all the details of your account! Without them, you will not be able to access the activated games in the future.

**************************************************

Dear customers!
We will be very grateful to the positive response!
Thank you very much, Your GameCode.

All our goods on the page http://gamecod.plati.ru

**************************************************
$

9.34