$

10.29
Description
* INSTANT DELIVERY *

** ATTENTION ** After the purchase you can get 3 randomized (random) activation keys for games under Steam absolutely free of charge. JUST LEAVE POSITIVE FEEDBACK for the goods with a request to send a bonus, and within 2-4 days the keys will be sent to the email you specified when purchasing!

After payment of the order, the system automatically (without our participation) will instantly send you a license to activate the game - Titanfall 2

Region: Region free (all countries)
Activation: Origin
Languages: Portugese-Brasil, Chinese, German, Spanish, French, Italian, Polish, Portugese, Russian, English

Game features:

Titanfall is back! The continuation of the popular multiplayer shooter promises to be even more explosive, hurricane and memorable than the first part of the game. You are waiting for new multiplayer maps, 6 new titans, new weapons, deeper customization of characters, even more maneuverability, thanks to the cats, new finishers and animations in the battles between the titans, improved graphics.

In addition to the hurricane multiplayer, players are waiting for a full-fledged single-player company, which will open the Titanfall universe like never before. You have to become a soldier who dreams of becoming a pilot of one of the Titans. By chance, you will be behind the front line, behind enemy lines, cut off from reinforcements and your command. You have to be united with the Avant-garde Titan who lost the pilot, and complete the mission to which you never subscribed.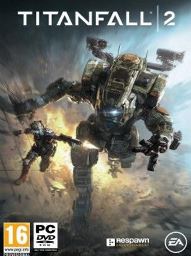 $

10.29
Additional information
Activation:
1. Download and install the Origin program. (http://www.origin.com/download)
2. Run Origin.
3. Select the interface language and the place where the game will be installed.
4. Go to "Origin-Activate Product Code."
5. Enter the key received after payment.
6. After activating the game, a tab with your profile and a list of activated games will appear.
7. Download and install the game.

Minimum system requirements:
OS: Windows 7/8 / 8.1 / 10 64bit
Processor: Intel Core i3-3600t
Memory: 8 GB RAM
Graphics: NVIDIA Geforce GTX 660 2GB / AMD Radeon HD 7850 2GB
Hard Drive: 45 GB HD
Platform: PC
$

10.29