$

10.95
Description
Zend-Loto Clean Script is a modern service of fast lotteries with great functionality and protection against hacking, perhaps this is the best lotto script. Installation instructions are there.

Main characteristics:

Deposit via Payeer and Free Kassa.
Payments are automatic, manual and disabled.
You can pay via Payeer and Free-Kassa to: Payeer, Yandex.Money and Qiwi.
In the admin panel, you can configure what to translate and the minimum salary to.
Withdrawal from Free-Kassa through F wallet, which is automatically replenished from the store balance.
The ability to display only those who replenished.

Daily bonuses.
The ability to distribute the bonus only to those who replenished.

Administrator correspondence with users in chat support.

The sound of winning.
News section. When you add news - it will flash at all in the left menu until they read it.
Competitions refovodov and rates.
You can see the profiles of participants.

Admin user profile can:
enroll flown replenishment;
change the balance, for example, give a prize for participating in the competition;
change wallets;
write a pop-up notification to the user, for example, about winning the contest.

List of users online.
Mobile version.

Popup window about the number of new referrals.
Pop-up window about the amount of new referral charges.

To the admin there is an income from the bets of the losers, from the non-established referral and from the withdrawal.
Refereeov income comes from the rates of the lost referrals.
Referral levels 3.

A large number of statistics for the admin and user.
Several languages.

Bonus at registration.
Authorization through social networks: Vkontakte, Odnoklassniki and Facebook.

The script is optimized as much as possible, which has reduced the load on the site many times.

Protection against hacking.
Record user-submitted data in the request table, in case of a hacking attempt.
Multi-account protection with the ability to disable.

The script is written from scratch in pure PHP.
PHP version from 5.3 and up.
Encoding windows-1251.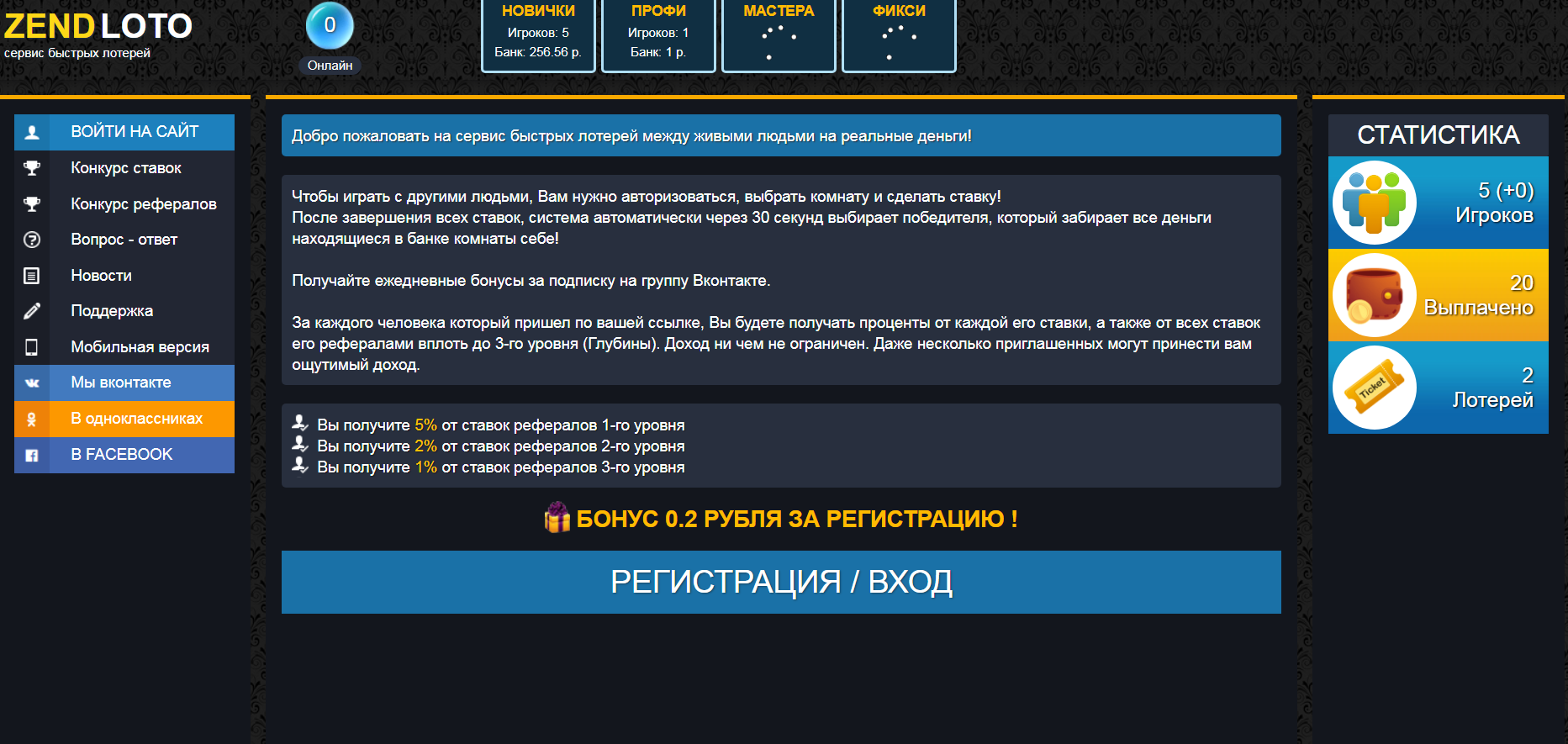 $

10.95