$

3.84
Description
Immediately after payment, you will INSTANTLY receive a gift activation link for the game.
You can either activate the game yourself or re-send it as a gift to a friend on your own behalf.

This gift can be activated only in these countries: Armenia, Azerbaijan, Belarus, Georgia, Kyrgyzstan, Kazakhstan, the Republic of Moldova, Tajikistan, Turkmenistan, Uzbekistan, Ukraine, Russia
he Talos Principle is a first-person view philosophical puzzle from the Croteam studio, the creators of the legendary Serious Sam series, written in collaboration with Tom Joubert (FTL, The Swapper) and Jonas Everything.

As if waking from a deep sleep, you find yourself in a strange, outlandish world, full of ancient ruins and complex machines. By the will of its creator, you have to solve a series of challenging puzzles and choose whether to rely on faith or ask yourself tough questions: Who are you? What is your purpose? And what are you going to do based on this?

Game features:
Overcome more than 120 puzzles in an unusual and beautiful world.
Distract drones, control laser beams and even manipulate time to prove your worth or find a way out.
Immerse yourself in the story of humanity, technology and civilization. Look for clues, build theories and determine your own conclusions.
Pave your own way in the non-linear world of the game, solving puzzles in your own way.
But remember: elections have consequences, and someone is always watching you.

1. Download Steam from the link: http://steampowered.com/download/SteamInstall.msi (and install if not already installed).
2. Create a new account on Steam (or go to an existing one).
3. The link received after the GIFT payment is copied and pasted into the Internet browser.
4. In the window that opens, take a gift and add the game to the LIBRARY or to the INVENTORY.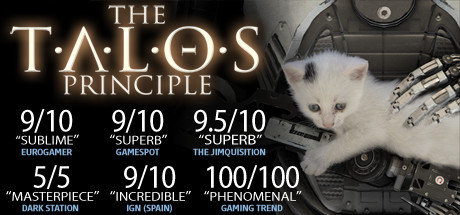 $

3.84