$

1.7
Description
Classic Wings! from Cinemaware reissued in high resolution. The game saved the original mission, air battles, plot and gameplay!
Experience the thrill, fame and pain of defeat experienced by the Allied pilots in the First World War. You will bombard the numerous armies of Hans, bomb enemy airfields and fight with famous aces in fights when the blood runs cold, and the loser, blazing, falls ... without a parachute! Wings! - this is more than a flight simulator! In this game, all the charm of arcade and passions role-playing game. Wings is a long-awaited simple simulator of air battles ... without complicated keyboard shortcuts. Just fly and shoot!
Wings! (Tm), the classic action simulator of the Amiga platform times, is back! In the Wings! Remastered Edition company Cinemaware presents you with the fullness of the fighting, their drama and passions. Turn on your Sopwith Camel and plunge into the atmosphere of amazing events in the role of a combat pilot. Fight your enemies in one-on-one air fights, bomb enemy buildings and fire enemy convoys from the air!
Wings! Remastered Edition is a great return of the 1990s hit game for the Amiga platform. The game is reproduced in its entirety, but now it is characterized by stunning high-resolution graphics, high-quality sound effects and excellent soundtrack recorded by real musicians using real instruments. Jump into the cockpit and enjoy this classic game in a new version!

* Take a look at the dramatic events of the First World War through the eyes of a military aircraft pilot!
* Survive the victories and defeats of the 56th squadron, the pilots of which seek to survive to the end of the war.
* Fight, bomb and shoot enemies in diverse and eventful missions!
* Perform more than 230 different tasks in the period from 1916 to 1918.
* Enjoy a fully restored orchestral soundtrack, recorded by the leading company Sound of Games, specializing in soundtracks for games!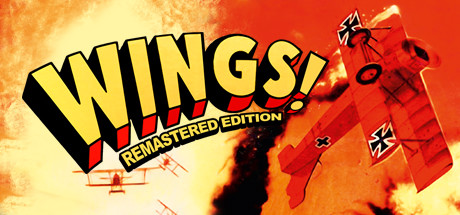 $

1.7