$

31.35
Description
There are no model rules for the exchange between configurations. Trade Management 10.2 and Enterprise Accounting 3.0, so we developed special rules for exchanging data between these configurations. The rules provide only for uploading data from the Trade Management to the Enterprise Accounting Department.

The following documents were uploaded:

1. Receipt of goods and services

2. Sales of goods and services

3. Return of goods from the buyer

4. Return of goods to the supplier

5. Moving goods

6. Completion of the nomenclature

7. Invoice issued

8. Invoice received

9. Buyer's order (unloaded to the document Invoice for payment to the buyer)

In addition, the reference information used in the documents is downloaded. These are reference books of Currencies, Organizations, Bank Accounts, Banks, Counterparties, Counterparty Contracts, Contact Persons, Nomenclature, Nomenclature Groups, Nomenclature Price Types, CCD Numbers, Cost Items, Cash Flow Items, Warehouses, Organizational Subdivisions and other supporting reference books.

The exchange rules provide for the selection of unloaded data on the organization, warehouse and counterparty.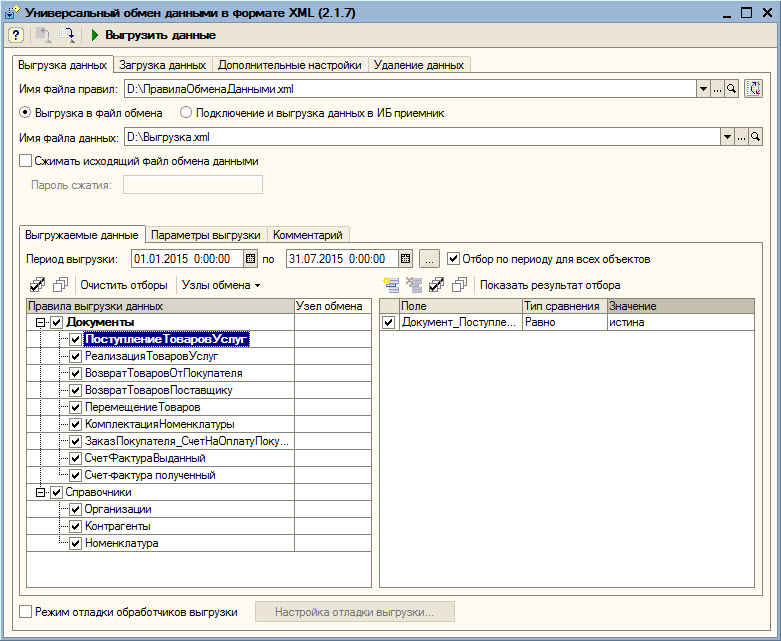 $

31.35
Additional information
The Rules were developed for the configurations of trade Management version 10.2.6.4 and Enterprise Accounting version 3.0.40.1.
$

31.35