$

3.09
Description
Dear customers! Google stopped issuing coupons. Therefore, at the moment we can deliver accounts with coupons!

Advords account format (login: password) in which the Google Adwords coupon 3000/500 is already activated. You need to replenish your account with 500 rubles without VAT (ie, you need to replenish with 600 rubles), spend them and get 3000 bonus.

3000 bonus money does not come instantly but within 1-3 days after fulfilling the conditions of the spent 500 rubles without NDS.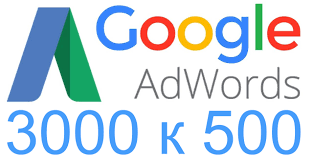 $

3.09
Additional information
Activation Instructions:
1. Go to Google Ads.
2. In the upper right corner, click the gear and select "Invoices and Payments."
3. Enter your billing information.
4. Refill your account balance by 600 rubles: 500 rubles. on advertising and 100 rub. on tax (VAT)
5. Upload your RC to your account. Or create a new one.
6. After moderation and spending 500 rubles, within 1-3 days you will receive a bonus from Google Ads in the amount of 3000 rubles.
$

3.09