$

7.49
Description
This code is only for Russian accounts.

You buy the code PlayStation Network (PSN) 500 rubles, to replenish Russian accounts, in the form of a digital code.

PlayStation Network is a great way to add funds to your PlayStation Network wallet. To do this, simply buy a PlayStation Network Card and enter the 12-digit numeric code. After that, you can easily download any content from the PlayStation Store using any PSN-enabled platform: PlayStation 3, PlayStation 4, PS Vita, PSP.
PlayStation Network is a separate independent platform with many services and applications that will expand significantly in the new year:
Demo versions / videos of new games;
Additional content that expands gaming capabilities - add-ons, maps, themes, new missions, artifacts, etc .;
Video, comics, other multimedia content;
Dynamically expanding main catalog of games for PlayStation of all publishers;
Exclusive PlayStation Network games, including affordable Minis games.

Benefits of using the PlayStation Network payment card:
Compatible with any platform that supports PSN: PS3, PS4, PS Vita, PSP.
Easy to use, informational support in the PSN interface and on the website (general information, technical support, PSN news, announcements).
The availability of gaming, multimedia content and services offered only on the PlayStation Network server.
The PlayStation Network payment card is a very good and demanded gift for all PlayStation owners.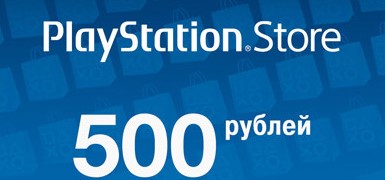 $

7.49
Additional information
Instructions for use:
- Create Russian PlayStation Network (PSN) account (or use an existing one)
- Visit PlayStation Store via Shop c PlayStation3, PSP or program Media Go for PSP on your PC
- Select the icon "Redemption Code" in the "Showcase"
- Enter the 12-digit code, and then click "Continue"
- Follow the on-screen instructions to redeem code
$

7.49