$

2.82
Description
The promotional code is valid until 01.04.2019.
1. Create a new Yandex.Direct account at https://www.direct.yandex.ru (when registering, select the country - Russia).
2. Create one or more campaigns and go through moderation.
3. Form an account for 1500 rubles (with VAT will be 1,800 rubles).
4. Enter the received coupon on the payment method selection page. Important! Coupon can be activated before the first recharge account balance!
5. Refill your account in any convenient way (available for individuals and legal entities).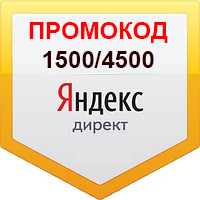 $

2.82
Additional information
Activation conditions:
Promo code can be activated once on a new account!
The domain you are going to advertise has not been hosted by Yandex.Direct during the previous 365 days.
The activated promo code will be canceled if the domain is changed or any other domain is added to the advertising cabinet.
The promotional code cannot be used for advertising without specifying a domain (virtual business cards) and for advertising mobile applications. But, in the account should not be repeated contact information!
If the general requirements are met, the promo code cannot be used to advertise a third-level domain (for example, mySite.Hosting.rf) or a page on social networks.
$

2.82