$

16.37
Description
You buy the official key that you receive immediately after the release of the game to your E-Mail specified at the time of purchase.

+++++++++
PRESENT:
+++++++++

Each buyer who made a pre-order will receive a guaranteed gift (On the day of release!) What? One of more than 40 different games for Steam. You will learn about this when you receive your GIFT by mail.
It can be activated in the "Steam".

To receive a gift you must:
1) Buy a game from us
2) Leave a positive review with the comment "I want a gift"
3) Expect.

Attention!! By putting a review - you guarantee that you have read all the conditions for a Gift and if something is not clear - they asked.

After payment, you will receive a link to your email address that will be available for viewing and downloading the official activation key of the game Age of Wonders: Planetfall: Deluxe on the release day of the game on August 8, 2019 at 00-01 Moscow time. The release date is tentative and may change. Attention>
For a positive review on this product, I will give the buyer a gift certificate in the amount of 5 rubles.
Details of gift certificates https://www.oplata.info/info/card_new.asp

Each buyer will also receive a promo code, he gives an excellent discount on all our pre-orders!
*************************
Language: Russian, English, Spanish, German, French, Polish, Japanese, Chinese
Platform: PC
Activation: Steam
Region of activation: Russia, Ukraine and CIS
*************************

PRESERVATION BONUSES:
- Paragon Noble Cosmetic Kit

COMPOSITION:
- Digital artbook. Learn in detail the vivid drawings that became the basis for the design of Age of Wonders: Planetfall
- Original soundtrack. Immerse yourself in the fantastic world of Planetfall to the sound of the original soundtrack.
- Bravado Bundle Cosmetic Kit. Express the desire to reshape the world in its own way with the help of stylish bandanas
- Cosmetic kit Spacerpunk. Don't let the rules and customs of a shattered galactic empire limit you
- Planet Infested Worlds and related plot. Survive among the alien flora and fauna in a world inhabited by the Kir'ko people

Build your empire by leading one of six unique factions, including the militant representatives of the Avant-garde, cybernetic zombies from the Assembly and the brave Amazons who tamed the dinosaurs. Show cunning, resilience, courage and wonders of diplomacy to create your own utopia. Explore the history of the perished civilization, exploring the destroyed planets and meeting with other surviving factions. You have to fight, build, trade and develop technology in a single-player campaign with a deep plot, in the worlds that are created randomly, or compete with friends in a network game.

This product is distributed through digital distribution, is only a pin code, and does not contain packages and boxes.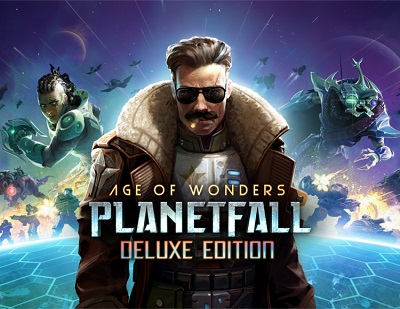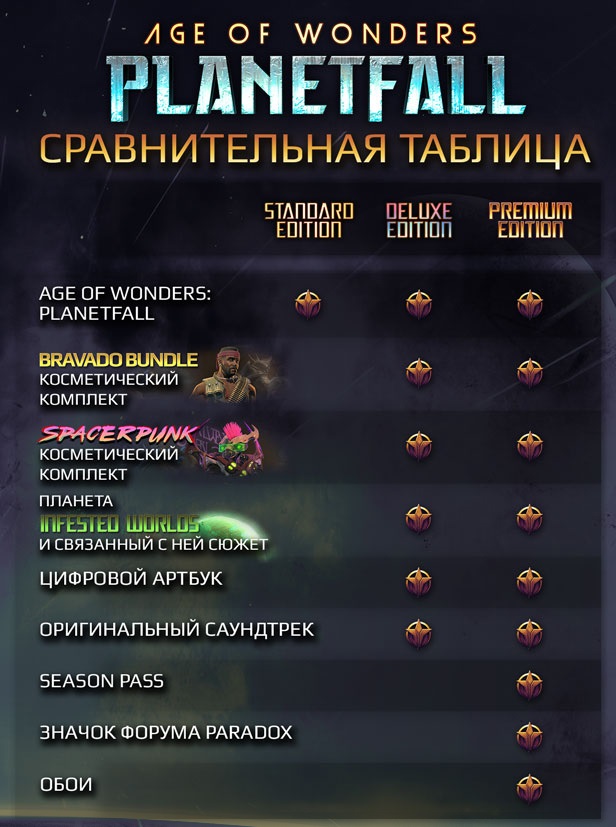 $

16.37
Additional information
**************************************************

DO NOT MISS HITS, ORDER FROM US))

Http://www.plati.ru/asp/pay.asp?id_d=2134584 - Battlefield 1
Http://www.plati.ru/asp/pay.asp?id_d=2327321 - Assassins Creed Origins: Deluxe Edition
Http://www.plati.ru/asp/pay.asp?id_d=1803382 - Grand Theft Auto V
Http://www.plati.ru/asp/pay.asp?id_d=2321080 - Far Cry 5: Deluxe Edition
Http://www.plati.ru/asp/pay.asp?id_d=2081829 - Dark Souls III Deluxe Edition
Http://www.plati.ru/asp/pay.asp?id_d=1941925 - Tom Clancy's Rainbow Six: Siege
Http://www.plati.ru/asp/pay.asp?id_d=2264120 - TEKKEN 7
Http://www.plati.ru/asp/pay.asp?id_d=2278461 - PREY
Http://www.plati.ru/asp/pay.asp?id_d=2081822 - Overwatch: Origins Edition
Http://www.plati.ru/asp/pay.asp?id_d=2177577 - Siberia 3
Http://www.plati.ru/asp/pay.asp?id_d=2127075 - World of Warcraft: Legion RU + 100 lvl
Http://www.plati.ru/asp/pay.asp?id_d=2281540 - Warhammer 40000: Dawn of War III
Http://www.plati.ru/asp/pay.asp?id_d=2329489 - Total War: WARHAMMER II
Http://www.plati.ru/asp/pay.asp?id_d=2034950 - Tom Clancys The Division

**************************************************

Instructions for activating the key on Steam:

1. Download and install Steam http://steampowered.com/download/SteamInstall.msi to register the account on Steam.
2. Click the "Add game - activate via Steam" button and follow the instructions. After activation, the game appears in the list of games and you can download it.
3. Download and after the full installation run and play.

IMPORTANT: After activating the serial key in steam, the key becomes invalid, i.e. You can not use it again.
MUST remember, but better write down all the details of your account! Without them, you will not be able to access the activated games in the future.

**************************************************

Dear customers!
We will be very grateful to the positive response!
Thank you very much, Your GameCode.

All our goods on the page http://gamecod.plati.ru

**************************************************
$

16.37