$

25.15
Description
Postapocalypse in bright colors
The expanded version of Far Cry New Dawn includes unique items missing from the original game. Gamers will receive three additional sets: "Herk's Heritage", "Knight" and "Retro", which include guns, costumes and vehicles. The plot unfolds in the region, where the atomic bomb was dropped 17 years ago. After the disaster, the terrain has changed a lot. Roads are overgrown, most of the buildings are destroyed, wild animals roam everywhere. However, the iconic elements are preserved, so players will be able to find out the locations from the fifth part of Far Cry.

The region is controlled by a group of raiders seeking to capture the latest resources. The union was headed by the twins Mickey and Lou, who will fight the main character of the game. The character will have to choose his own way: fight alone, use the services of mercenaries, or find supporters in multiplayer mode. Another possibility is to use satellite animals that can protect against enemies.

Resources are scattered throughout the United States, and to search for them will have to make regular forays. The collected raw materials are used to build and improve their own base. And experts will help to upgrade weapons and equipment.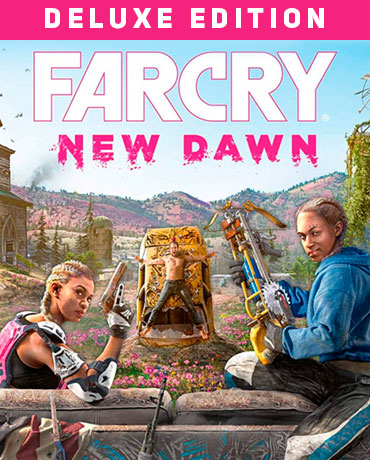 $

25.15
Additional information
The publication includes:
• Far Cry New Dawn
• Set "Herk's Heritage"
• Set "Knight"
• Set of weapons "Retro"

Minimum system requirements:

OS: Windows 7, Windows 8, Windows 10

Processor: Intel Core i5-2400 3.1Ghz / AMD FX-6350 3.9Ghz

RAM: 8 GB

Video card: NVIDIA GeForce GTX 670 / AMD Radeon R9 270X

Disk space: 30 GB

Recommended system requirements:

OS: Windows 7, Windows 8, Windows 10

Processor: Intel Core i7-4790 3.6Ghz / AMD Ryzen 5 1600 3.2Ghz

RAM: 8 GB

Video card: NVIDIA GeForce GTX 970 / AMD Radeon R9 290X

Disk space: 30 GB
$

25.15