$

0.69
Description
Action time: 1 day.
ACR CQB is considered to be a universal weapon. The gold version features increased damage, rate of fire, increased shop and a chic appearance.
In ACR CQB, almost all characteristics show an excellent result, which makes it a powerful weapon. The shop PP holds 30 pistol cartridges, which are used quickly when firing, the standard ammunition is 180 rounds. The weapon has a high reload rate.

Butt blows are medium in speed and do average damage. He has a long range of fire, which gives him the opportunity to shoot at medium range.

Three modular slots are available for modifying with the entire range of equipment for the engineer, so you can easily customize your weapon for any style of play.

ACR CQB is considered to be a universal weapon that will perfectly cope with any tasks assigned to it. He is easy to use, behaves confidently and will deal with him as a novice and an experienced player.

The use of this weapon is allowed in Warface tournaments.
ATTENTION!!! This code is intended for activation only on RU servers.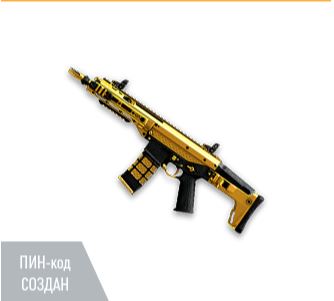 $

0.69
Additional information
Warface is a free multiplayer online shooter developed by the world famous company Crytek.

After the purchase you get:
PIN for: Gold ACR CQB (1 day)

By activating the code on the site wf.mail.ru, you will receive a Gold ACR CQB for 1 day.

Delivery: Electronic PIN activation code in text form (XXXXX-XXXXX-XXXXX-XXXXX-XXXXX).
Delivery time: Instant emailing.
Game: Warface
$

0.69