$

0.14
Description
An automatic pistol does not have high damage, but it has an excellent rate of fire and excellent accuracy. Made in a rare and bright color "Atlas", which will emphasize your superiority on the battlefield!
ATTENTION!!! This code is intended for activation only on RU servers.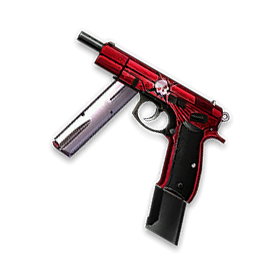 $

0.14
Additional information
Warface is a free multiplayer online shooter developed by the world famous company Crytek.

After the purchase you get:
Pin Code: CZ 75-Auto Atlas (1d.)

By activating the code on the site wf.mail.ru, you will receive a CZ 75-Auto Atlas for 1 day.

Delivery: Electronic PIN activation code in text form (XXXXX-XXXXX-XXXXX-XXXXX-XXXXX).
Delivery time: Instant emailing.
Game: Warface

Czech pistol, first presented at the exhibition in Madrid in 1975. Allows you to fire bursts.
Combat effectiveness
CZ 75-Auto does not have good damage, but has a high rate of fire and excellent accuracy. Medium range allows you to effectively conduct shooting at close and medium distances. The pistol magazine holds 26 pistol cartridges. The weapon has a standard reload rate.

The gun has a weak recoil, which can be easily controlled, besides, when firing, the barrel withdrawal is insignificant. For modifying weapons available only the barrel with its entire range of modules.

The use of this weapon is allowed in Warface tournaments.

Virtues
• Good range.
• High rate of fire.
• Good accuracy when shooting in aiming mode and from the hip.
• Low recoil that is easily controlled.

disadvantages
• Small damage.
• One slot modifications.
$

0.14