$

26.66
Description
Do you have 1000 fights on your account? Then my offer is for you.

In this lot you get 2 recruits out of 2 maximum possible. If you already have a recruit who fulfilled the contract, use the offer to buy only 1 recruit http://www.plati.com/itm/2127041?ai=688850

After the purchase, inform your recruit link in correspondence with the seller.

The game is performed only solo, you do not need to play together.

When recruiting for 1500 points, the commander (recruiter) receives a premium of 8% with a crew of 100% and a slot in the hangar to choose from the list or credits.

Prizes for the commander are:
or T92
or Panther mit 8,8 cm L / 71
or FV4202
or AMX M4 mle. 49
or 8,8 cm Pak 43 Jagdtiger

and
1500 booms, camouflage, style, and medals.


The program works seasons for 120 days. At the beginning of each season, several prem tanks will be added to the list, and the commander can recruit 2 more recruits, the progress of recruits from previous seasons is preserved.

In general, every 120 days you can start TWO recruits and get 2 tanks (or credits), 3k booms, camouflage and styles.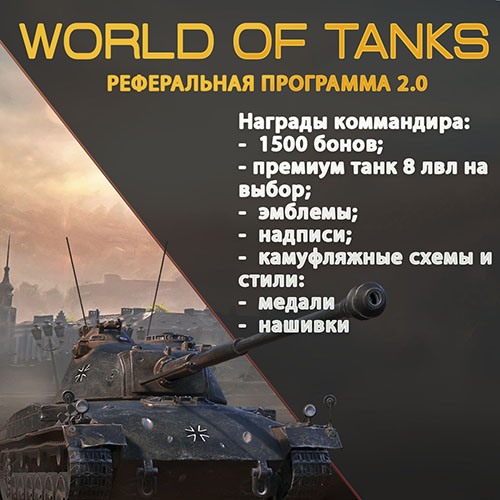 $

26.66
Additional information
A prerequisite is that you have 1000 fights on the main account, the last battle in the game must be no later than 60 days, you must not have any time restrictions imposed on access to your account (do not be in the banned).
$

26.66