$

1.13
Description
IMMEDIATE DELIVERY!

ATTENTION! The key will fit ONLY for the XBOX ONE, ONLY for newly created accounts (where there was no Game Pass subscription)!
Please take this into account, because after the purchase we will not be able to help and no complaints about this do not accept!
Microsoft is fully responsible for the proper operation of the Xbox Live service.

The list of countries where Live sevice is supported is http://www.xbox.com/en-US/live/countries, but the key cannot be activated in Romania, Hungary and Cyprus.

After payment of the order, the system automatically (without our participation) will instantly send you a link to download the license key for the XBOX Game Pass subscription for 14 days (for any country - WORLDWIDE - RU / EU / US) for XBOX ONE

List of available games: https://www.xbox.com/en-US/games/xbox-game-pass

The Xbox Game Pass is a subscription to Xbox One, Xbox Play Anywhere and Xbox 360 games (with backward compatibility) for Xbox One consoles. Access to games requires an active subscription. Games included in the subscription may change over time, may depend on the country and may not be available in all countries.

With the Xbox Game Pass you will always have something to play. Find and download games that you have long wanted to play, including the legendary old editions in maximum quality, without problems with streaming or connecting. Enjoy games of all genres, such as action and adventure, as well as family games, tough shooters and sports simulators. Do you like the Xbox One game in the catalog and want to buy it? Buy it and save 20%, and also get an additional 10% discount on any add-on for playing Xbox One in the catalog. The Xbox Game Pass is an access to the directory in which new games are added every month.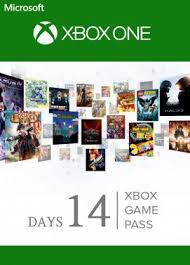 $

1.13
Additional information
Instructions for creating a new account on the Xbox:
1) On the Xbox Live welcome page, click Continue.
2) Enter a NEW gamertag (nickname) that you have not used before.
3) The next step is to enter your Windows Live ID. Click "NO" to create a new account.
4) Choose a country.
5) Select a language and specify a date of birth.
6) Enter the new email address that you didn't use before to create your Windows Live ID.
7) Enter the password and security question.
8) Then enter the first name, last name, phone number and contact email.
9) Accept the terms of use.
10) Click "Redeem code" and enter the purchased 25-digit code.
11) Done!

Method of card activation through the site:
1) Go to the site http://www.xbox.com
2) Click Sign In in the upper right corner.
3) Enter your data and go.
4) Go to the Manage Profile.
5) Go to Redeem Prepaid Card
6) Enter the Prepaid Code.
$

1.13